Basic design course through art-based research in interior architecture education
Keywords:
Gestalt, art-based research, basic design, interior architecture
Abstract
This article presents the basic design course applications based on the design education of first-year interior architecture students. This study aims to emphasize the importance of education in the design-oriented thinking process with practice through the content of the basic design course. Within the scope of the study, art-based research in interior architecture education was carried out and the intersections of its results are described. In the studio, basic design elements and principles were conveyed with the techniques commonly taught in schools and architectural movements were given to students as term papers for research. The study directs the student to create 2D and 3D compositions by combining the studies he/she has done during the term and the research assignment. The findings show that students can reflect on their research on architectural movements to new three-dimensional abstract spaces by combining them with basic design education. While grounding this reflection, design process of the students is based on form and elements without color. The results also show a significant correlation between students' practices and Gestalt Principles. This article emphasizes the importance of applying basic elements and principles of design and being integrated with field-specific studies to achieve better results in design education. This study is an experimental and original studio product. With the basic design education given only in the first semester, the students were given examples to determine and understand forms and approaches without color knowledge, especially through basic principles, using architectural movements instead of abstract expression.
References
Atalayer, F. (1994). Temel sanat ögeleri. Anadolu Üniversitesi Yayınları.
Balcı, Y. B., & Say, N. (2005). Temel sanat eğitimi (2. Baskı). Yayın Pazarlama.
Boucharenc, C. G. (2006). Research on basic design education: An international survey. International Journal of Technology and Design Education, 16, 1-30.
Brown, T. (2009). Change by design: How design thinking transforms organizations and inspires innovation. Harpercollins.
Bulat, S., Bulat, M., & Aydın, B. (2014). Bauhaus Tasarım Okulu. Atatürk Üniversitesi Sosyal Bilimler Enstitüsü Dergisi, 18(1), 105-120.
Carroll, M., Goldman, S., Britos, L., Koh, J., Royalty, A., & Hornstein, M. (2010). Destination, imagination and the fires within design thinking in a middle school classroom. International Journal of Art & Design Education, 29(1), 37-53.
Chapman., C. (n.d.). Exploring the Gestalt Principles of design. (online). Available at: https://www.toptal.com/designers/ui/gestalt-principles-of-design (accessed 01 June 2022).
Chastain, T., & Elliot, A. (2000). Cultivating design competence: Online support for beginning design studio. Automation in Construction, 9(1), 83-91.
Chen, J. C., & Heyligen, A. (2006). Learning design teaching. Proceedings of CSAAR 2006 – First International Conference of the Center for Study of Architecture in the Arab Region. Fas, Rabat, pp. 577-588.
Ching, F. D. K. (2014). Architecture: Form, space, and order. John Wiley & Sons.
Cross, N. (2001). Designerly ways of knowing: Design discipline versus design science. Design Issues, 17(3), 49-55.
Denel, B. (1981). Temel tasarım ve yaratıcılık. ODTÜ Mimarlık Fakültesi Basım İşliği.
Dilmaç, O. (2010). Paris Ulusal Güzel Sanatlar Yüksekokulu (Ecole des Beaux Art's) ve sanat eğitimi tarihimizdeki yeri. Atatürk Üniversitesi Güzel Sanatlar Enstitüsü Dergisi, 24, 67-89.
Friedman, K. (2003). Theory construction in design research: criteria: approaches, and methods. Design Studies, 24(6), 507-522. https://doi.org/10.1016/S0142-694X(03)00039-5
Goldstein, E. B. (2007). Sensation and perception (7. Edition). Wadsworth Cengage Learning.
Greenwood, J. (2012). Arts-based research: Weaving magic and meaning. International Journal of Education & the Arts, 13(1), 13-20.
Hodgkin, R. A. (1985). Playing and exploring: Education through the discovery of order. Methuen.
Ledewitz, S. (1985). Models of design in studio teaching. Journal of Architectural Education, 38(2), 2-8.
Lidwell, W., Holden, K., & Butler, J. (2015). Universal principles of design. Rockport Publishers Inc.
MacDonald, S. (2004). The history and philosophy of art education. Lutterworth Press.
Malnar, J. M., & Vodvarka, F. (1992). The interior dimension. Van Nostrand Reinhold.
McKim, R. H. (1980). Experiences in visual thinking (2. Edition). PWS Publishing.
McNiff, S. (1998). Art-based research. Jessica Kingsley Publishers.
McNiff, S. (2007). Art-based research, in J. Gary Knowles, Ardra L. Cole [Eds] Handbook of the Arts in Qualitative Research, Sage Publishing, pp. 29-40.
Meggs, P. B., & Purvis, A. W. (2006). History of graphic design. Wiley & Sons Inc.
Meinel, C., & Leifer, L. (2011). Design thinking research. In H. Plattner, C. Meinel, ve L. Leifer (Eds.), Design thinking: Understand improve apply. Springer.
Özsavaş Uluçay, N., Müezzinoğlu, M. K., & Karakaya, B. (2022). An assessment of the pandemic period on art and design in higher education in Turkey, in A. Afonso, L. Morgado, L. Roque [Eds] Impact of Digital Transformation in Teacher Training Models, IGI Global, pp. 178-195.
Pile, J. (2000). A history of interior design. John Wiley & Sons Inc.
Polat, Ü., & Karagöz. S. (2020). Türkiye'de Erken Cumhuriyet dönemi mesleki ve teknik eğitimin durumu hakkında bir muhtıra (Kemal Zaim). [About the Early Republic Period Vocational and Technical Education in Turkey A Memorandum (Kemal Zaim)]. Kastamonu Education Journal, 28(5), 2156-2164. https://doi.org/10.24106/kefdergi.727919
Ranjan, M. P. (2005). Lessons from Bauhaus, Ulm and NID: Role of basic design in PG education. In Design Education: Tradition and Modernity. International Conference, DETM.
Razzouk, R., & Shute, V. (2012). What is design thinking and why is it important? Review of Educational Research, 82(3), 330-348. https://doi.org/10.3102/0034654312457429
Rock, I., & Palmer, S. (1990). The legacy of Gestalt psychology. Scientific American, 6(263), 84-91.
Salama, A. M. (2009). The conventional approach to studio teaching practice. In Transformative Pedagogy in Architecture and Urbanism, Routledge, pp.81-119.
San, İ. (1993). Toplumsal değişme ve değişen sanat eğitimi. Anadolu Sanat, 1, 165-176.
Schön, D. A. (1985). The design studio. An exploration of its traditions and potentials. Riba Publication.
Seylan, A. (2005). Temel tasarım. M-Kitap, Dağdelen Basın Yayın Ltd. Şti.
Shoshi, B., & Oxman, R. (2000). The architectural design studio: Current trends and future directions. In Proceedings of Design Studio: The Melting Pot of Architectural Education Conference, pp. 311-319.
Soegaard, M. (2014). Gestalt principles of form perception. In The Glossary of Human Computer Interaction (online). Available at: https://www.interaction-design.org/literature/book/the-glossary-of-human-computer-interaction/gestalt-principles-of-form-perception (accessed 01 June 2022).
Türkmen, A. (2020). Concept representation and form production in basic design. IDA: International Design and Art Journal, 2(2), 228-247.
Wagemans, J., Elder, J.H., Kubovy, M., Palmer, S. E., Peterrson, M. A., Singh, M., & von der Heydt, R. (2012). A century of Gestalt psychology in visual perception: I. Perceptual grouping and figüre-ground organization. Psychological Bulletin, 138(6), 1172–1217. https://doi.org/10.1037/a0029333
Wertheimer, M. (1923). Untersuchungen zur Lehre von der Gestalt II. Psycologische Forschung, 4, 301-350.
Wick, R. (2000). Teaching at the Bauhaus. Hatje Cantz Verlag.
Wong, W. (1993). Principles of form and design. Van Nostrand Reinhold.
Yang, C. M., & Hsu, T. F. (2020). Integrating design thinking into a packaging design course to improve students' creative self-efficacy and flow experience. Sustainability, 12(15), 5929.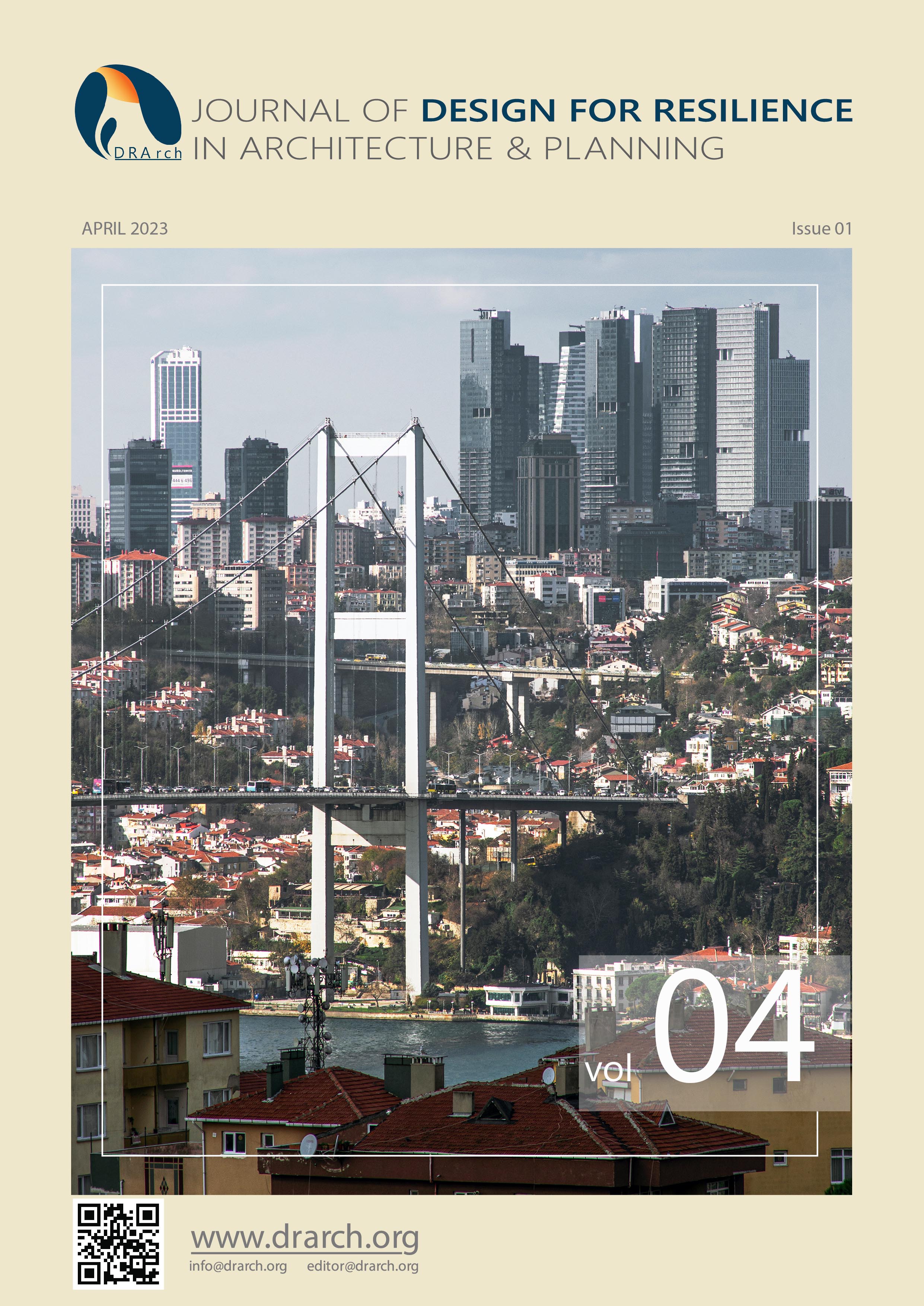 ---
---
---
How to Cite
Özsavaş Uluçay, N. (2023). Basic design course through art-based research in interior architecture education. Journal of Design for Resilience in Architecture and Planning, 4(1), 136–147. https://doi.org/10.47818/DRArch.2023.v4i1088
---
---
Section
Research Articles
---
License
Copyright (c) 2023 Nilay Özsavaş Uluçay
---
License
This work is licensed under a Creative Commons Attribution 4.0 International License.
---